Description
Vintage style cruiser skateboard just like those back in the 1960s.
Mini Cruiser Premium is made for easy carrying and suitable for middle-distance cruising.
Trucks made in USA with over 80 years of experience in skate parts manufacturing.

---
We are inspired by the old skateboards made between late 50s and 60s.
During the time, most of the skateboards are made by solid wood planks with metal or clay wheels taken from old roller skaters.
Trucks and wheels were narrow, decks were usually solid wood not plywood.
We have been building skateboards since 2013.
Our Mini Cruiser comes with maple, oak and walnut solid wood planks imported from North America.
Equipped with very narrow skateboard trucks and super high rebound skateboard wheels.
Mini Cruiser is slightly shorter than our Road Racers.
It is a compact cruiser board for very easy carrying and short-distance cruising. 
*American Oak. Trucks made in USA.
---
現在のスケートボードの前身で、無垢材を用いて製造したミニサイズのスケートボードです。
早くも 1950 年代スケートボードブームが始まった草創期、スケートボードは加工した木の板にローラースケートを分解して得た部品を取り付けて作られました。
1960 年代になるとスケートボードブームは黄金時代に入り、スケートボードの外観と材質は大幅に改良されました。
Mini Cruiser Premium は 1960 年代に流行した各種の Sidewalk Surfer をモデルとして、幅の狭いトラックとビンテージ調のウィールを組み合わせ早期のスケートボードの素朴なスタイルを再現しました。
ミニサイズなので、持ち運びやすく、街乗りや短時間の通勤に最適なビンテージスケートボードです。

*アメリカ産オーク無垢材と80年以上の歴史を持つローラースケートメーカーが製作したアメリカ製トラックを使用しています。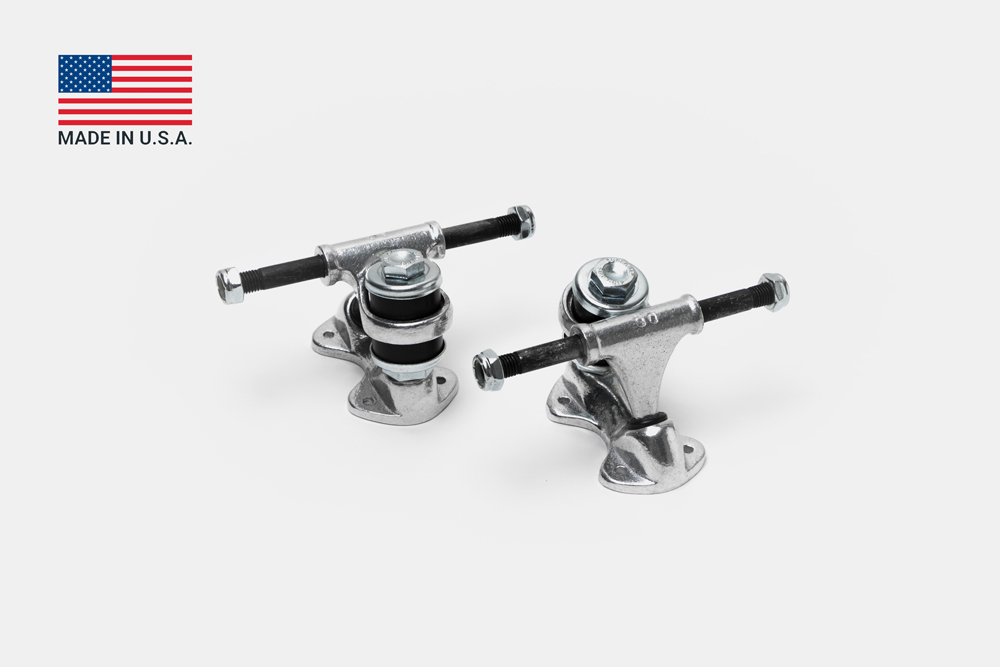 -----
Deck :  Solid Oak 51cm ( L ) x 15cm ( W )
Trucks :  Super Narrow Type ( Made in USA )
Wheels :  Private Visit Skateboard Wheels OD 56mm x 31mm 78A SHR
Bearings :  608 Skate Bearings
Risers :  Private Visit Leather Risers
-----
*Note :  This is a made-to-order item. It may take up to 2 weeks before we ship your order. 
Skateboards are made of natural solid wood. Each deck may be slightly different in its color and grain.
*Shipping :  Contact us for a shipping quote if your country is not shown in the list upon checkout.